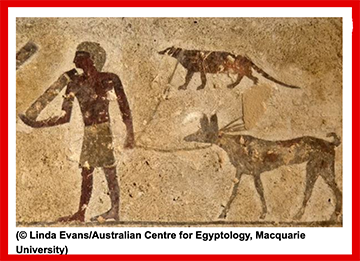 This is a photo taken of a painting that was drawn on a stone wall in Egypt over 4000 years ago.
4000 years.
Dogs have been helping humans for a very long time.
As a working k9 advocacy group, we are constantly working on ways to improve our efforts at helping the K9's who, not because they volunteered but because we decided they have the qualities that will best serve us, take care of our communities and country in difficult and sometimes very violent situations.
A few months ago, we took part in a podcast with some fellows who have a good view of the working K9 community, and I asked them: "what are we missing? Where do we need to fill a gap in the care of these K9's that isn't being addressed?" Their response was simple and quick: "Training."
After mulling it over, and I mean really thinking about it, we decided that we, with the resources provided by our donors, would start to fund classes for handlers and their Dogs.
The Dog's safety and health are almost entirely in the hands of the human that they are attached to. It makes sense that the education of the human part of the K9 team is a priority. I know I made huge mistakes as a handler, to include killing Spike, the namesake of our non-profit, in a "shoot-through."
We presently have two classes on the books and we will use these as "test-runs" of sorts.
The first one is a basic "day with a trainer" here in Portsmouth Virginia. We will be paying the team from Crystal Clear Canine, a group I have worked with extensively, to come to the department and interact with the various handlers and K9's to try to find solutions for what they see as their issues or worries, you know, the places in their work where they don't have complete confidence that the K9 will succeed.
The second class will be in Tacoma, Washington. It will be a class on K9 emergency medical care. It will be taught by a young man I have great respect for and who has much experience in that tough environment; Evan Nolte Cross. The Tacoma PD lost a K9 recently in a shooting incident and we are keen to fund this class to people who see the value in being trained for the worst-case scenarios.
We will continue to plan more class events, and we will do so with great care to provide these classes for people who are genuinely invested in what we are offering. We will vet each and every instructor and student. If we think they are not interested in the classes for the right reasons, we will not select them. I intend to approach this "vetting process" in a way similar to what I went through in the military. This is important for two reasons. The first is that we are being trusted by our donors to spend their hard-won $ in the most effective ways. The second, and this may sting a bit for some, I have seen K9 handlers in the military and law enforcement who are lazy and should probably be doing something else with their lives. Additionally, the humans who "think" they are the shit, and who spend a large amount of their time actually talking shit, instead of working their Dogs, are people we will avoid; be they instructors or potential students. Don't get me wrong, I've been a member of the "shit-talker-brigade" and for that reason, I really hate it. Seems the best place to interact with that specific crew is on Facebook where nobody gets punched in the mouth for being disrespectful.
We take this work very seriously. These Dogs have been helping us solve human problems for a very long time.
We will do everything we can to take care of them.
They deserve it and we owe it to them.