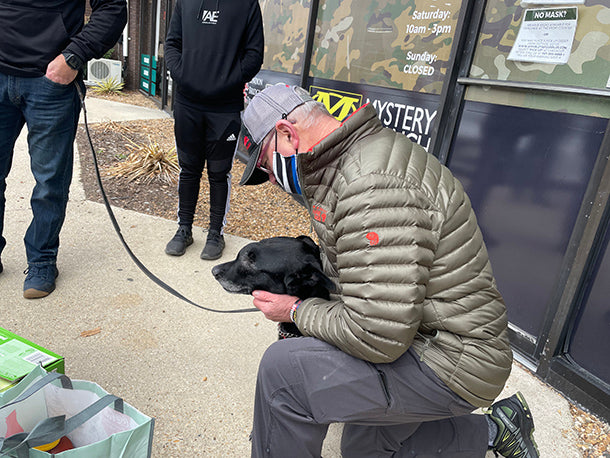 One of the coolest things about being involved with Spike's K9 Fund is that I get to meet and speak with amazing folks on the regular. Some of them are strangers, some are employees, some are volunteers and some are people that we help with our donors' generosity.
I want to dedicate this blog to our volunteer Harlan. Harlan sent me a message a few weeks ago suggesting that we do a food drive and maybe try to do it with our local PD as a way to help the community and give the public an opportunity to interact with their local law enforcement K9 teams.
Well, we took Harlan's suggestion and we held the "Canned goods and Canines" event at Double Tap Military Surplus on Northampton Blvd in Virginia Beach. The Norfolk Police Department joined us and many officers brought food to drop off.
Harlan, a Vietnam Veteran who lives in Ohio, packed his truck up with non-perishables and drove down here for the event. His truck full of food made a very impressive chunk of the total haul at the end of the day.
Additionally, we had another supporter, one from Tennessee, send us $1000.00 to go to the store and buy more items for the food bank. The hits just keep coming folks.
I am eternally grateful for our generous supporters, and when I see the tangible good that comes from them, I am reminded, yet again, that in spite of the difficulties we are all experiencing right now, we are surrounded by kindness and generosity.
Here is a photo of Harlan meeting a local retired K9 ( K9 "Uno") while at the event.
In closing, I want to say "Thank you" to all of you who support us in any fashion. Spike's K9 Fund exists because of you. This work to care for the K9's in our communities and those who protect our nation, can only be successful with the selfless support of you, our #spikespack.